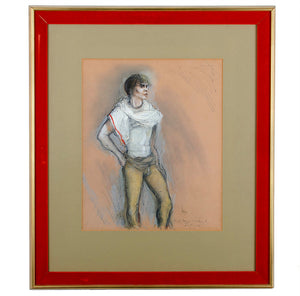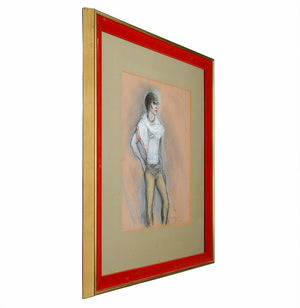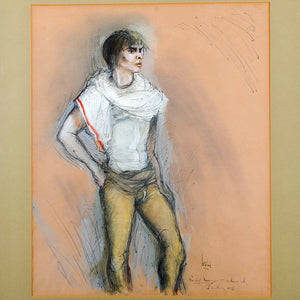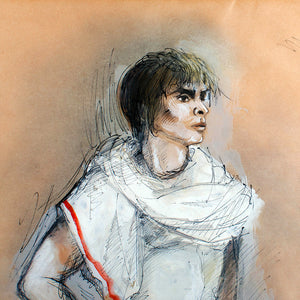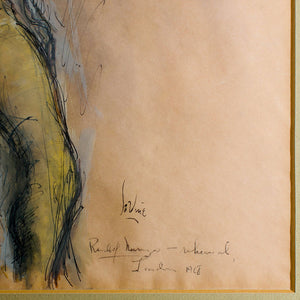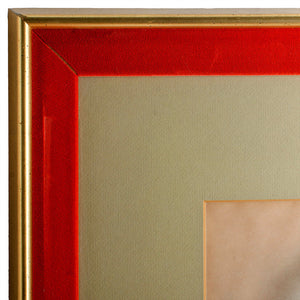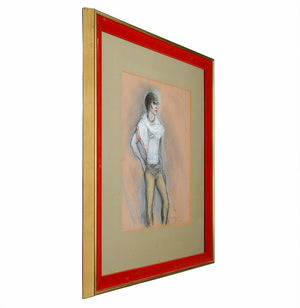 W. Robert LaVine - Rudolf Nureyev Ballet Rehearsal, 1968
W. Robert LaVine
(American, 1920-1979)

Offered is an ink and watercolor costume illustration of Russian ballet dancer, Rudolf Nureyev from a rehearsal in London of 1968 by W. Robert LaVine.

W. Robert LaVine was a stage and costume designer who lived in Manhattan. A graduate of the Art Institute of Chicago, he later became the lead costume and set designer for major Broadway productions and went on to work in movies, tv and fashion.  

Rudolf Nureyev is widely regarded as one of ballet's greatest male dancers. The painting features the dancer at his London rehearsal in 1968, during his time as Principal Dancer for the Royal Ballet.  

sight 13 by 16 inches
frame 23 by 27 inches
signed and titled lower right; LaVine, Rudolf Nureyev - rehearsal, London, 1968

In vintage gold frame with red velour liner over the glass. Spots of flattened pile found on the velour. The piece is preserved in excellent condition, mounted under a sage green mat.