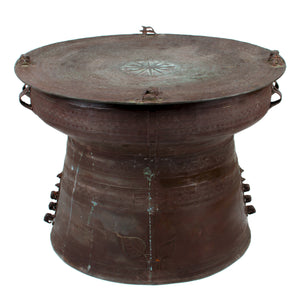 Southeast Asian Dong-son Frog Kha Bronze Rain Drum
Southeast Asian Dong-son Kha bronze rain drum.
These drums with cast raised sun pattern and geometric designs were made as ceremonial objects of fertility. They are known for their unique sound when struck by monsoon rains. 
Applied frisky frogs on the top and elephants on either side in addition to leaf patterns on front and back sides are the main traditional embellishments on these pieces. The frogs are perfect for supporting a glass top should you choose to add one. 
A light green patina showing on this drum. If you prefer a clean bronze finish the patina could be brushed off and oiled or waxed.  
There is an old puncture on one side approximately 3 inches.
Excellent condition for the age.
18½ inches tall by 24 inches wide.