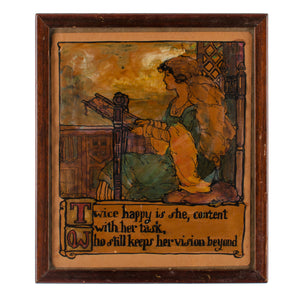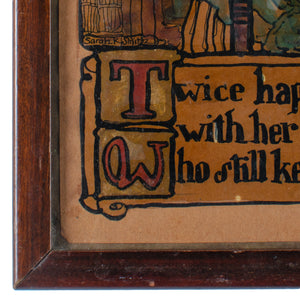 Sarah Katherine Smith, Original Book Illustration
Sarah Katherine Smith
(American, b.1878)
An original book illustration in pen and gouache.
paper: 7 ¾ by 9 inches
frame: 9 by 10 ¼ inches
Sarah Katherine Smith was born in Rio Vista, CA in 1877. After graduating from Wheaton College, Smith enrolled at the Art Institute of Chicago, continued at the Boston Museum School, with Howard Pyle and William M. Chase.  Most of her life was spent as a resident of Wheaton, Illinois where she taught at Wheaton College.  Her illustrations appeared in national magazines and children's books.  Her paintings reflect the training of Chase and includes women in garden settings, portraits, and other figure studies. 

Edan Hughes, author of the book "Artists in California, 1786-1940"
Who's Who in American Art 1947-53.