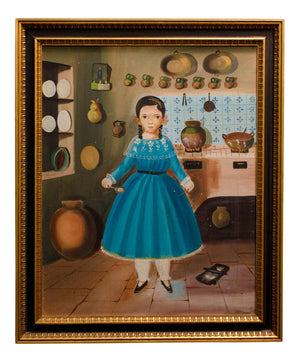 Lilia Carrillo 'Girl in Kitchen' 1950
Girl in Kitchen c. 1950, an original oil on canvas composition by Lilia Carrillo (Mexico, 1930–1974), signed: Carillo.

Framed: period gilt wood and black, light finish loss. 

Condition: Canvas is in fine condition. Some spots of yellow oil paint splattered across finished painting.

Sight: 15 1/4 x 19 1/8 in. (19 x 23 in.)

Bio:
Lilia Carrillo was a Mexican painter from the Generación de la Ruptura, which broke with the Mexican School of Painting of the early 20th century. She was trained in the traditional style but her work began to evolve away from it after studying in Paris in the 1950s. While she and husband abstract artist Manuel Felguérez struggled to get their work accepted, even selling Mexican handcrafts and folk art to survive, she eventually had her canvas work exhibited large venues in Mexico City and various cities in the world. Her work was part of the inaugural exhibition of the Museo de Arte Moderno in Mexico City in 1964. After her death in 1974, her work received honors from the Palacio de Bellas Artes and has been exhibited in various venues.