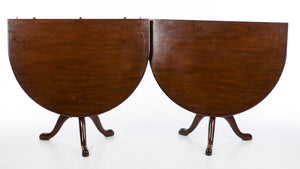 Kittinger Williamsburg Mahogany Pedestal Dining Table
Offered is a Kittinger Williamsburg George II style mahogany two pedestal dining table.
Rounded ends and edges with rectangular top.  
Columnar supports slide out on underside to support the addition of two leaves with interlocking brackets. Includes one 24 inch and one 12 inch leaf. Finely fashioned latches allow for tops to be released and tilted.  
Stamped "Kittinger" and "Williamsburg" on underside in addition to adhered labels with patent number and consecutive serial numbers. 

The table is 65 inches wide expanding to 101 inches. The height is 28½ inches and the depth is 47½ inches.

Condition is very good with scuffs and scratches consistent with the age of this vintage piece.