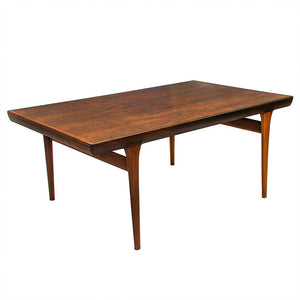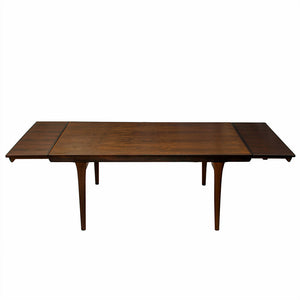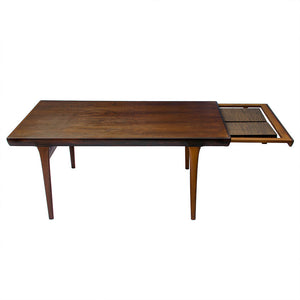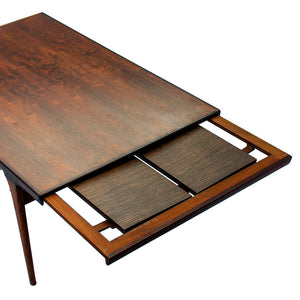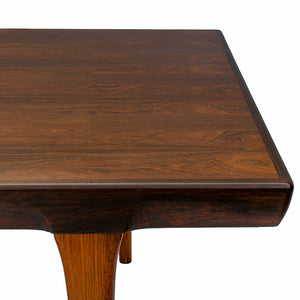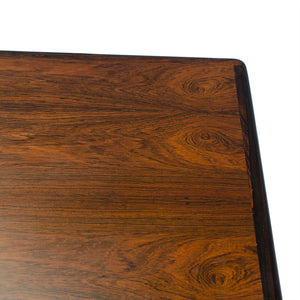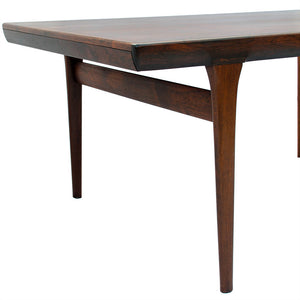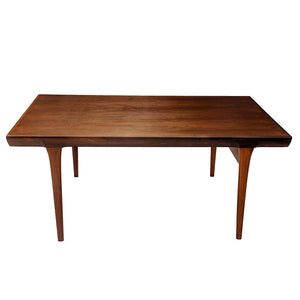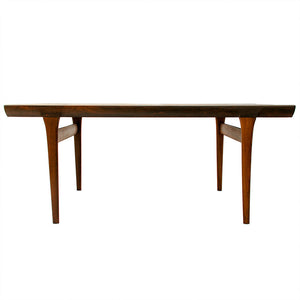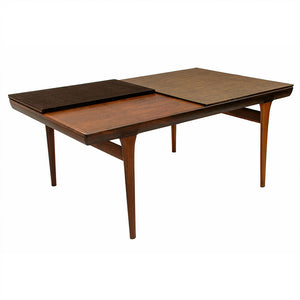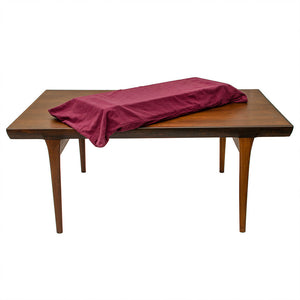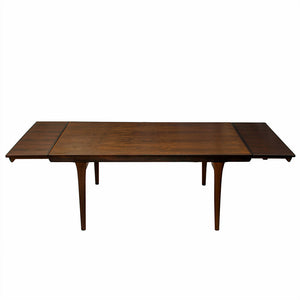 Ib Kofod-Larsen Rosewood Dining Table
Ib Kofod-Larsen
(Danish, 1921-2003)
Brazilian rosewood dining table with two leaves housed within extending supports.
Original table pads for table and both leaves included.
68 inches wide by 41½ inches deep by 28¼ inches tall.
The leaves are 14 inches wide. 96 inches total width with both leaves installed.
Rosewood is a very hard wearing wood and this table is proof; it is in fine condition with few if any signs of use.
Faarup Møbelfabrik was a Danish furniture company who's pieces were prized for their clean lines, fine craftsmanship, sturdy proportions and beautiful wood grains. Ib Kofod-Larsen designed this table for Faarup in the 1960s. A faintly impressed and burned in signature is found on underside above the typical Danish Furnituremakers' Control Association label.
Furniture designer Ib Kofod-Larsen was born Denmark in 1921 and studied at the Danish Royal Academy in Copenhagen. In 1948, he won the Holmegaard glass competition as well as an annual award from the Danish Cabinetmakers Guild. The latter drew the attention of Danish furniture manufacturer Faarup Møbelfabrik, and Kofod-Larsen went on to create some of his most beautiful works for the company, including his rosewood Model 66 sideboard, during the 1950s. He also designed furniture for several other leading midcentury manufacturers, both at home and abroad, including High Wycombe, Christensen & Larsen, Carlo Gahrn, Bovenkamp, Petersens, and Fredericia Furniture.
Kofod-Larsen frequently worked with gorgeous woods, such as teak and rosewood, as well rich leathers. Clean, sculptural lines characterize much of his work. Notable designs include the U-56 or Elizabeth Chair (1956), composed of a light teak frame and upholstered leather that was purported to have been named for England's Queen Elizabeth II after she purchased a pair during a visit to Denmark in 1958; as well as the airy and modern Penguin chair (1953). The latter (sometimes referred to as the Shell) features a curved back that embraces the sitter and was originally produced by Petersens in Denmark. It went on to also find great success with the Selig company, which imported and sold thousands of copies in various iterations (settees, dining chairs, and more in various woods and upholsteries) in the U.S. market starting in the 1950s. Kofod-Larsen's striking teak and leather-upholstered Sälen (or Seal) easy chairs for OPE (also 1950s) have become increasingly popular on the vintage market in recent years.
Kofod-Larsen passed away in 2003. Today, the designer's pieces have become more frequently collected, in large part due to Kofod-Larsen's talent for honoring the innate qualities of his chosen materials. (from pomono.com)