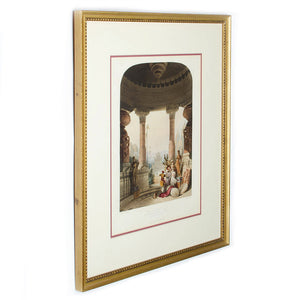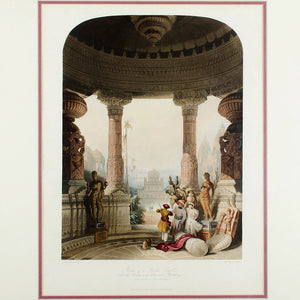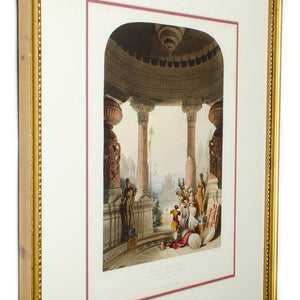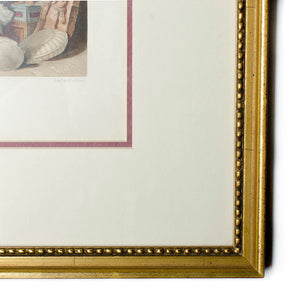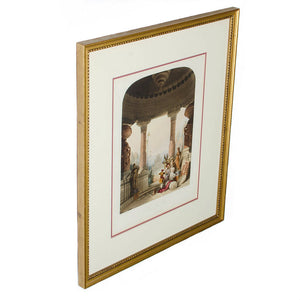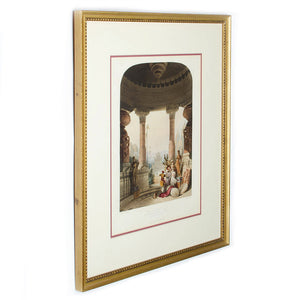 Hindu Temple Aquatint, a Captain Robert Melville Grindlay Print
Captain Robert Melville Grindlay (London, 1786-1877). Portico of a Hindu Temple with other Hindu and Mahomedan Buildings from scenery, costumes, and architecture chiefly on the western side of India. Engraved by R.G. Reeve.

Custom gilt frame with double mat. A bright example with no spotting or visible wear. The frame is in likewise excellent condition.

Aquatint engraving on thick paper. London: Smith, Elder & Co. published 1826.

Measurements:
Image 10 1/2 by 14 inches
Frame 18 by 21 1/4

About the artist:
Grindlay, a self-taught amateur artist, went to India in 1803, aged 17. He served with the East India Company's military service from 1804-1820 and during this period made a large number of sketches and drawings recording the life and landscape of India.