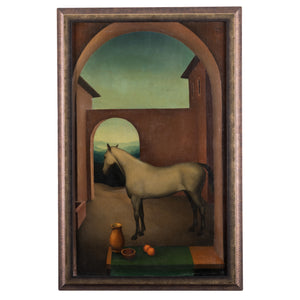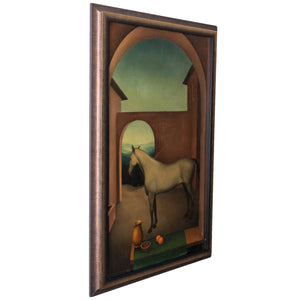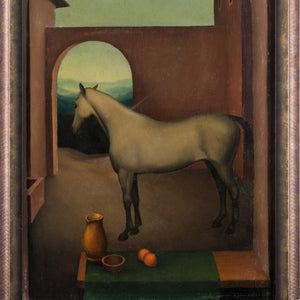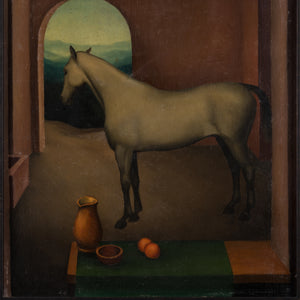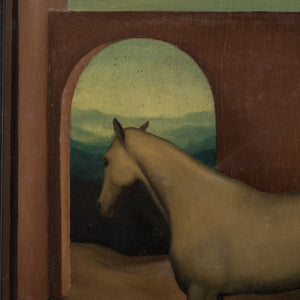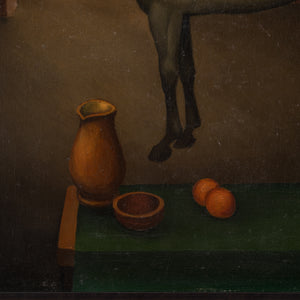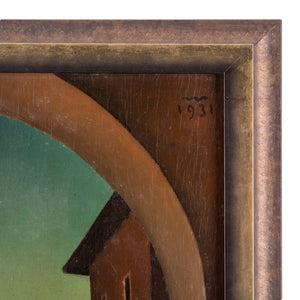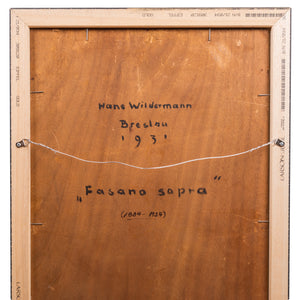 Hans Wildermann - Fasano Sopra, 1931
Hans Wildermann
(German, 1884-1954)
Fasano Sopra, 1931
oil on board
sight: 15 ¼ by 25 inches
frame: 18 ½ by 28 ¼ inches
Good overall with discolored varnish, craquelure and small spots of retouching.
Hans Wildermann was a sculptor, painter and graphic artist and stage designer.  
In 1912 Wildermann began stage design working in Opera houses in Berlin, Dortmund, Nuremberg, eventually working as a professor of theater painting in Breslau and as the head of decoration department of the Wroclaw Opera.  
Early in his career he was part of a group of artists called 'Künstlergruppe Aenigma' or the Aenigma Group which was led by Rudolph Steiner and whose members were close followers of his Anthroposophical teachings. The group exhibited works collectively from 1918-1932.  Between 1916 and 1923 Steiner delivered a series of lectures on art history and color theory which attracted large audiences of young artists and students. The Aengima group attended these and other lectures, advocated Steiner's ideas and produced "anthroposophical works of art" influenced by Steiner.
In the 1920's Wildermann also developed a friendship with music book publisher Gustav Bosse.  Wildermann produced illustrations for many of Boss' publications and other books through the 1940's.
One of Wildermann's more well-known works, a triptych entitled Transfiguration, painted in 1923-24, was confiscated in 1937 by the National Socialists and declared "Degenerate Art".  Many of his paintings, including Homer, 1911 and Faust am Meer, 1911, were destroyed in the war.
His work entitled "Requiem" is in the collections of the National Gallery of Art. The Museum für Kunst und Kulturgeschichte in Dortmund has a permanent collection of his work.  The "Werkfolge" of Hans Wildermann's works published in 1933 by Ernst Scheyer includes 72 of his paintings and 60 sculptures.
This painting is from his time living in Breslau, dated 1931.  It depicts a grey horse peering out of an arched doorway.