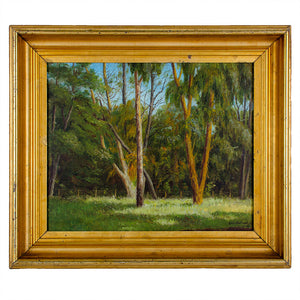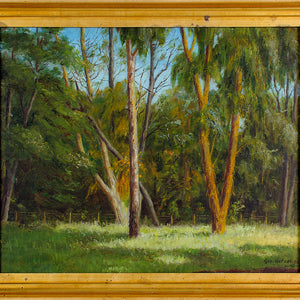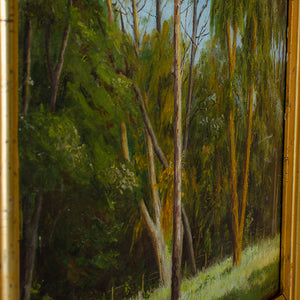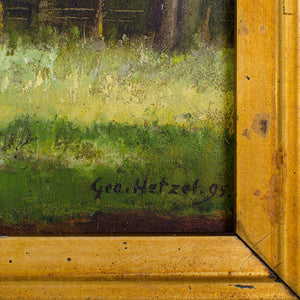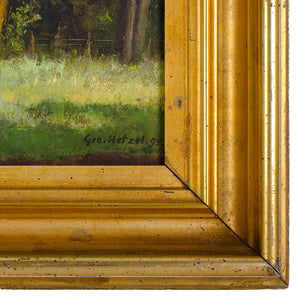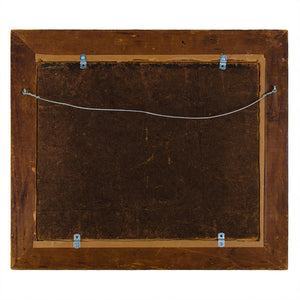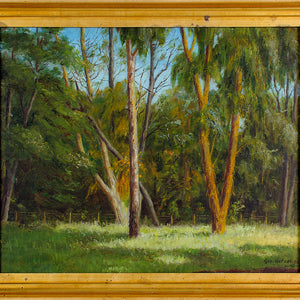 George Hetzel Landscape Oil on Board
George Hetzel
(Pennsylvania, 1846-1912)
landscape, 1895
oil on board
sight 13 ⅛ by 16 ¼ (board size 14 ⅛ by 17 ¾")
frame 19 by 22 inches
signed and dated lower right, Geo. Hetzel, 95
The painting is in good condition with minimal inpainting in grass and sky. The frame shows some patina of age.
George Hetzel (1846-1912) Born in Alsace, France, his family moved to Allegheny City (Pittsburg) when he was two years old. Early on, George displayed artistic talent and in 1847 his father sent him to Germany to study at the Dusseldorf Art Academy where he spent the next 2 years honing his skills.
His early work was influenced by Asher B. Durand, of the Hudson River School. His later works reflect a more painterly, pre-impressionistic influence of the Barbizon School.
George Hetzel was instrumental in the formation of the Scalp Level School of painting. They captured for posterity the vanishing natural beauty of the Paint Creek Valley area of Pennsylvania.
Hetzel exhibited in the National Academy in New York (1865-1882) and at the Pennsylvania Academy. Additionally, he was featured in the 1876 Centennial Expo, the first Carnegie International in 1896 and the World's Columbian Exposition (1892-93)