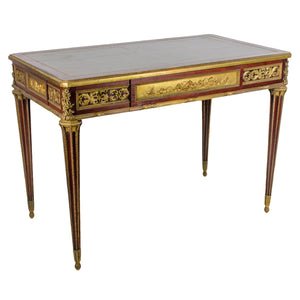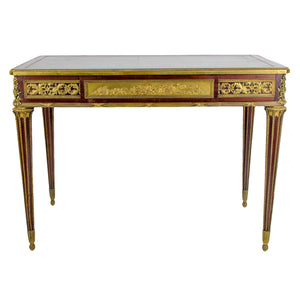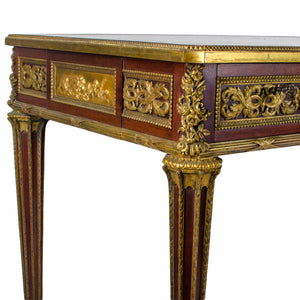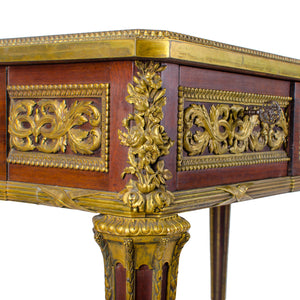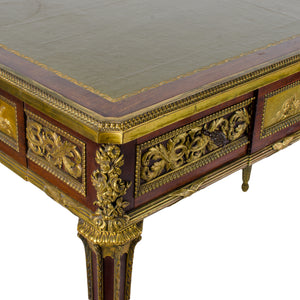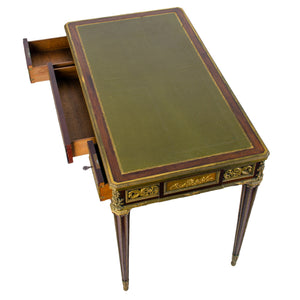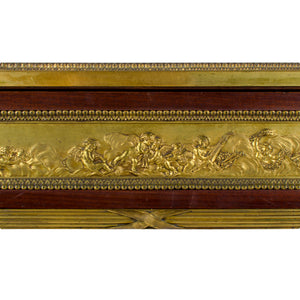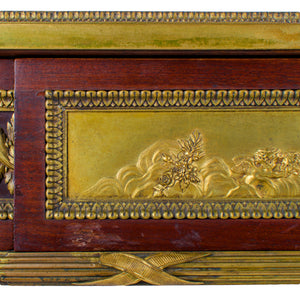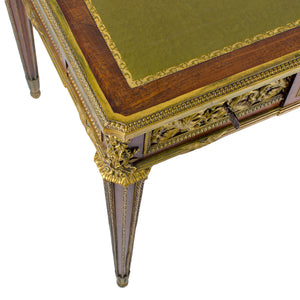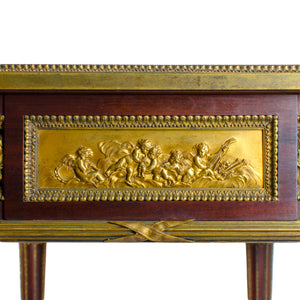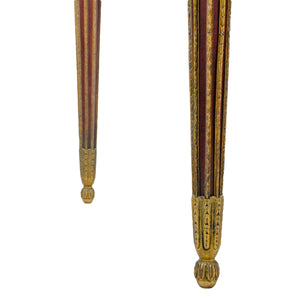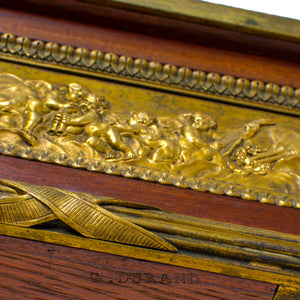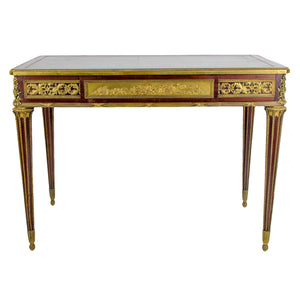 G. Durand Louis XVI Style Table à Écrire
GERVAIS DURAND
(France, 1839-1920)
Important Louis XVI style table à écrire
France
Circa 1870
signed; stamped underside three times, G. Durand
Length : 41 inches ; Depth : 23 inches ; Height : 29 1/4 inches ; Knee : 23 ½ inches
Oak and fruitwood veneered with mahogany. Gilt embossed green leather surface with acanthus ormolu trim border. Flat frieze with three locking drawers. The larger spring loaded drawer is actuated by a button on underside. It is centered between two smaller drawers mounted with finely chiseled ormolu representing acanthus foliage. Central panel reliefs on each side depict cherbim. All frieze panels framed with beaded ormolu band. Richly detailed floral mounts on each case corner. The lower edge mounted with ribbon-tied reeds. Raised on four round tapering fluted legs with berry topped filets terminating in attractive ormolu sabots with bottom finial.
This table à écrire is inspired by the one executed by French royal ébéniste Jean-Henri Riesener in 1781 and presented to Marie Antoinette, which served as her personal writing desk at the Petit appartement de la Reine at Palace of Versailles.
Minor blemishes on top including ring from lamp. Lower left of central drawer has ding above the broken ribbon tip in the ormolu.
This piece is in excellent, all original condition.
Biography
Gervais-Maximilien-Eugène Durand, (1839-1920) established the Maison Durand firm in 1870, producing top quality eighteenth century style furniture. The business triumphed when the firm participated in the 1889 Paris Exposition Universelle,  obtaining a silver medal and commended as 'un ébéniste aussi habile que modeste, qui expose pour la première fois les meubles de premier ordre, dont il est à la fois le déssinateur et l'exécutant; il marche sur la voie tracée par les maîtres tel que Beurdeley et Dasson.' (A cabinet-maker as skilled as he is humble, he is exhibiting for the first time his furnishings of the highest standards. He designs and creates them; he is on the same path as the great Beurdeley and Dasson). [sothebys.com]
PLEASE CONTACT US FOR SHIPPING OPTIONS