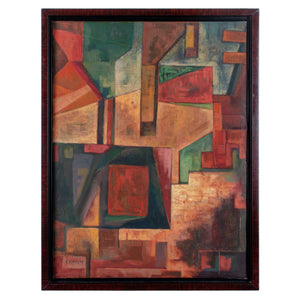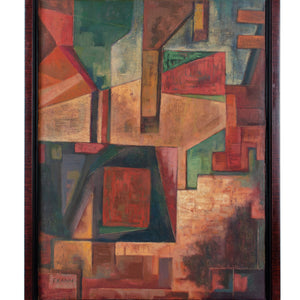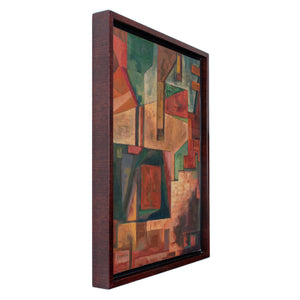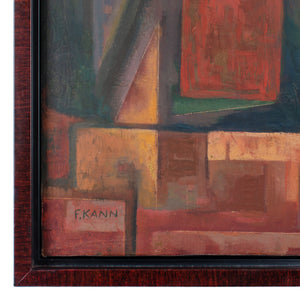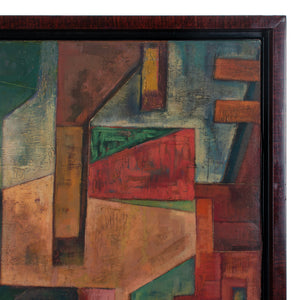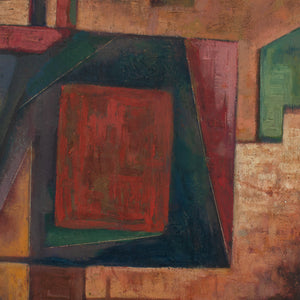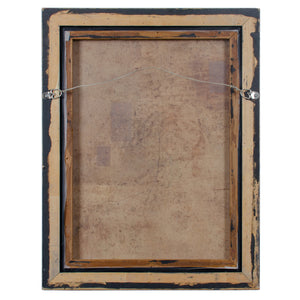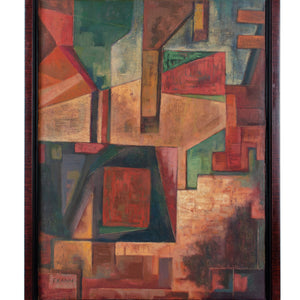 Frederick Kann - Abstract Composition, c.1930s
Abstract Composition, c.1930s
Oil on canvas
Canvas: 17 ½ by 23 ¼ inches
Frame: 19 ½ by 25 inches 
Professionally conserved with pe-cap monofilament semi-transparent relining.  Some in-painting. 
Frederick I. Kann was born in Gablonz, Czechoslovakia on May 25,1886. He died July 6 in Los Angeles California in 1965. 
Kann was a painter, sculptor, photographer and teacher.
He studied at the Technical College of Prague and attended the Art Academies of Munich and Prague.
Kann immigrated to Canada and became a U.S. Citizen in 1910.
Frederick Kann returned to Europe (France) and remained there until 1936.
Kann was the first American to teach at the Louvre Schools in Paris.
In Paris Kann was a member of the Abstraction Creation Group.
In 1939 his work is included in Realites Nouvelles Renaissance Plastique, at Galerie Charpentier, Paris, an organization founded by Sonia Delaunay devoted to pure abstract art.
Kann exhibited extensively in Europe with Kandinsky, Calder, Mondrian, Moholy-Nagy, Delaunay, and others.
Frederick Kann was a member and a chairman of the American Abstract Artist Group. He exhibited in their first show at the Squibb Gallery. His essay on Abstract Art "In Defense of Abstract Art" was published in the first American Abstract Artist Group's Annual. It was his responsibility to find venues in America that would display this group's art works.
Kann was a European Modernist, Surrealist, and a Pioneer Abstractionist.  
Frederick Kann was an instructor as the Kansas Art Institute in the late 30's along with Thomas Hart Benton. Later when Kann moved to California he became a teacher at Chouinard Art Institute.
Kann was an owner of The Circle Gallery in Los Angeles in California in 1944. At that time galleries were not exhibiting abstract works of art so his choice was to open his own.
Kann also started his own art school in California (1953). He called it The Kann Institute of Art.
From 1905 to 2011 Kann has an extensive exhibit history in Europe and the United States of over seventy six venues.
His work had been missing for many years until it was rediscovered and properly researched. 
Source:
Pamela Esther Nask, Researcher of the artist, who has his letters and artworks, which were abandoned in the 1980s.  She is provider of information for gallery exhibitions of work by Kann.
Free Shipping