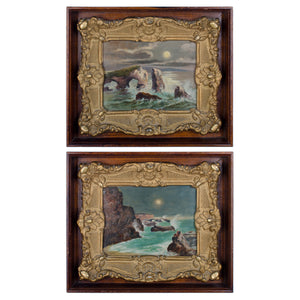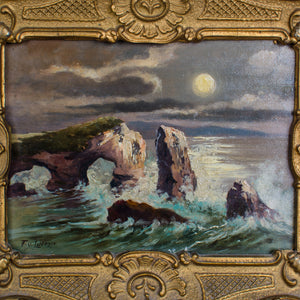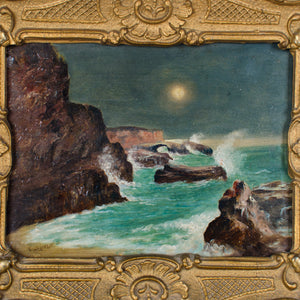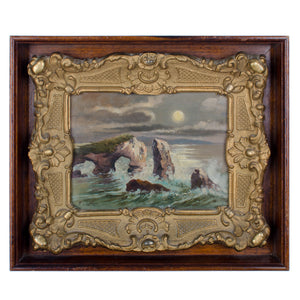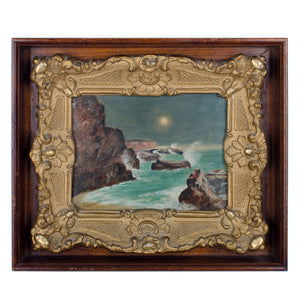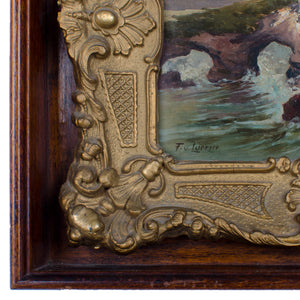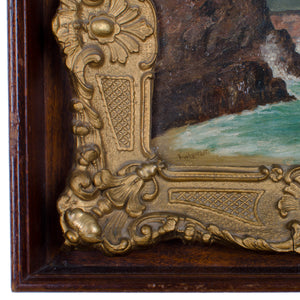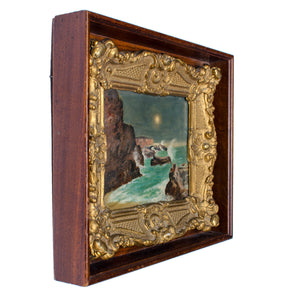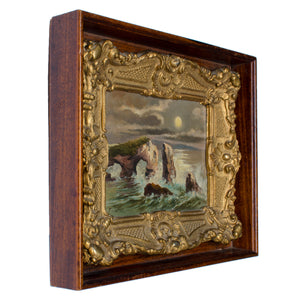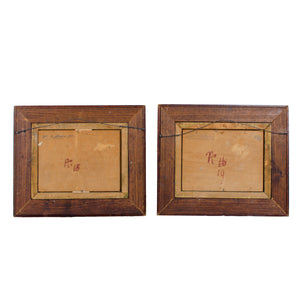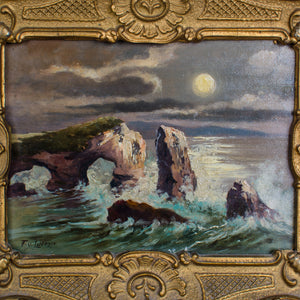 Feodor von Luerzer - Nocturnal California Coast Paintings - A Pair
Feodor von Luerzer
(Austrian/American, 1851-1913)
Offered is a pair of framed oil paintings on board by Feodor von Luerzer depicting seascapes of turbulent waters crashing into rocky shores of Monterey Bay Area in California.
Painting (each) 6 by 8 inches
Frame (each) 11 by 13 by 2 inches
The paintings are in very good antique condition. They are framed in a painted gold frame, housed within a mahogany floater frame. The frames are in good condition with age-related wear. There is some craqueler in the gesso of the gold frames and the mahogony floaters show some scuffs and dings
Feodor Von Luerzer was born in Austria in 1851. Von Luerzer immigrated to the United States in 1886. He lived in Milwaukee and Cleveland before moving to Duluth, Minnesota in 1889. He closed his studio there in 1904 and left for California for a one-year stay to paint the giant redwoods in the Calaveras Grove, the Mother Lode country and along the Monterey coast.

He later moved to the state of Washington and made painting trips to the Cascade Mountains, the South Dakota Badlands, and Coeur D'Alene area of Idaho. He died in Spokane, Washington in 1913.

Works held:
St Louis County Historical Society (Duluth, MN).

Edan Hughes, "Artists in California, 1786-1940"
Washington State Artists 1850-1950 (Trip, Dode and Sherburne F. Cooke).