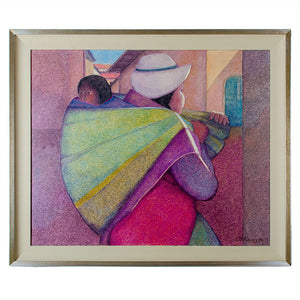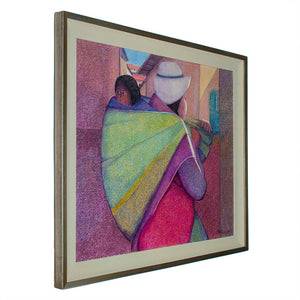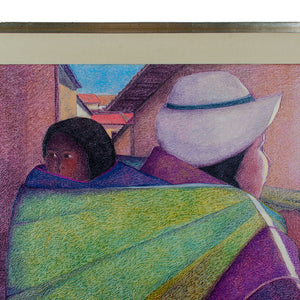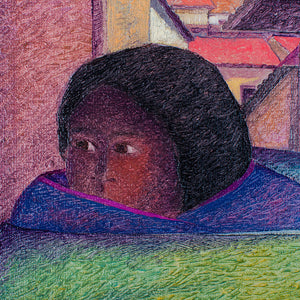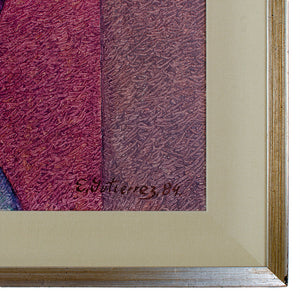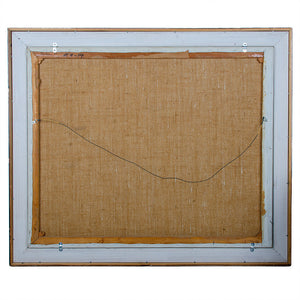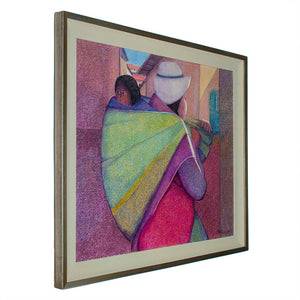 Ernesto Gutierrez, Woman with Child, Oil on Canvas, 1984
Ernesto Gutierrez
(Peruvian, b.1939)
Woman with Child, 1984
Sight 37 ¾ by 30 ¾ inches
Frame 44 by 37 inches
signed and dated '84 lower right.
The painting is in very good condition. The liner is new. The silver frame has some wear.
Ernesto Gutierrez (b. 1939) Born in Lima, Peru. He began his studies in Lima, recieving his BFA in 1964, then went on the the study at the Museum of Modern Art in Brazil. He later won a Fulbright scholarship which brought him to the US where he earned his MFA at the University of Wisconsin.
Gutierrez's father was Spanish and his Mother was Quecua Indian. In some ways, his work reflects this mixed heritage, as he combines his western education and technique with his interest of Pre-Columbian culture, much of his work depicting indigenous Peruvian people, landscapes and culture.
Gutierrez has won several international awards, and has exhibited his work in galleries in Peru, Chile, Argentina, Brazil, and at several galleries across the United States.