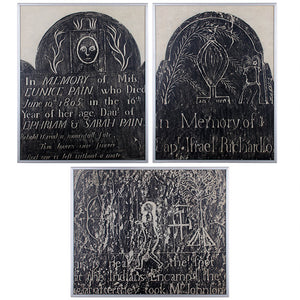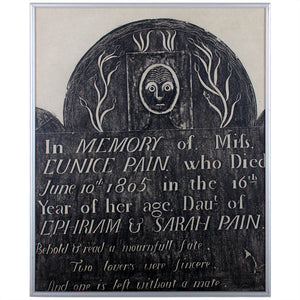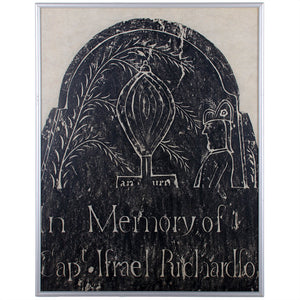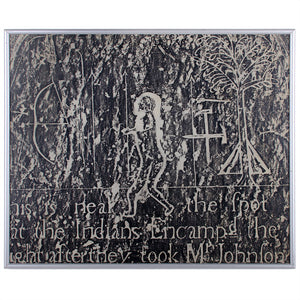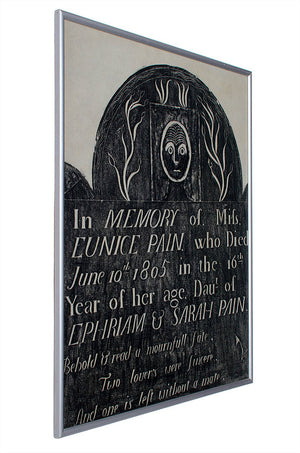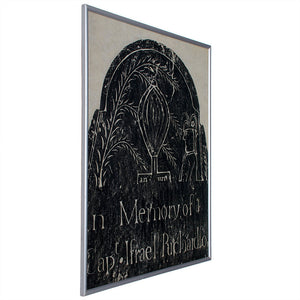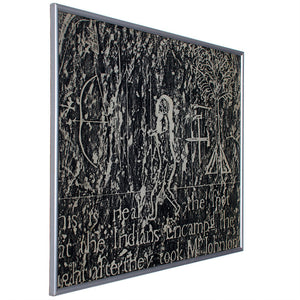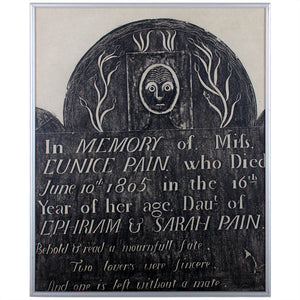 Early New England Gravestone and Marker Rubbings - Set of 3
Offered are three vintage framed early American granite marker rubbings from Vermont gravestones and an abduction stone marker. They stand apart for their early American folk art ornamentation and the detailed inscriptions that give a glimpse into the lives of early Americans.

The rubbings were executed on premium Aqaba paper with quality rubbing wax.

#1 Woodstock, Vermont, Captain Israel Richardson

This gravestone rubbing reads "In memory of Captain Israel Richardson". Captain Richardson was one of the earliest residents of the town of Woodstock, Vermont. He built the Captain Isreal Richardson tavern which survives as one of the oldest buildings in Woodstock. He was also a Universalist and one of the founders of the Universalist Church of Woodstock.

sight 17½ by 22¾ inches
frame 18¼ by 23¾ inches


#2 Rockingham, Vermont, Eunice Pain, June 10, 1805 (age 16)

This framed gravestone rubbing reads "In memory of Eunice Pain". It states "Behold and read a mournful fate, Two lovers were sincere, And one is left without a mate." This marker is located at the Old Rockingham Meeting House cemetery in Rockingham, Vermont.

sight 18½ by 22¾ inches
frame 19¼ by 23⅝ inches


#3 Felchville, Vermont, Johnson, Laberee and Farnsworth families (abducted by Indians), August 31, 1754

The last is a rubbing of an abduction stone, describing the events which occurred after several families were abducted by Abenaki Indians in 1754. The stone reads "this is the spot that the Indians Encamped the night after they took Mr. Johnson and Family Mr. Leberee and Farnsworth. And Mrs. Johnson was delivered of her child half a mile up this Brook". The families were abducted in Charlestown, NH and were sent up towards Canada during which trek Mrs. Johnson gave birth. Years later in 1799 Mrs. Johnson was able to return to the spot and erect this marker.

18½ by 22½ inches
19¼ by 23¼ inches

The rubbings are all in great condition and are neatly framed in minimal round silver wood frames behind reflection control glass.