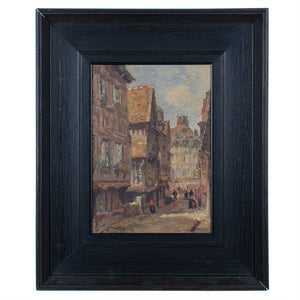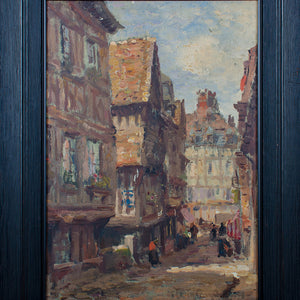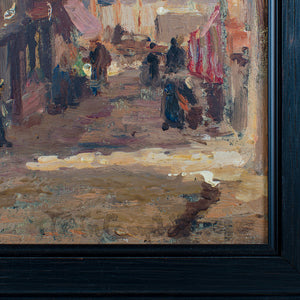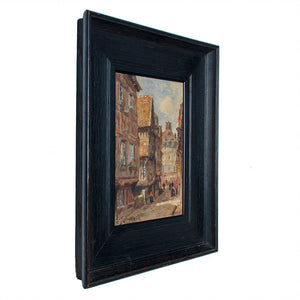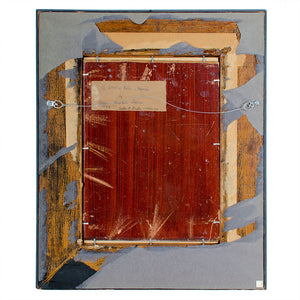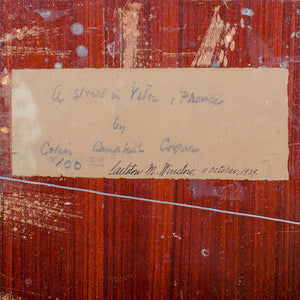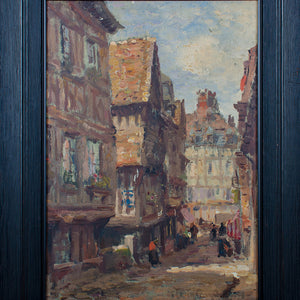 Colin Campbell Cooper - Vitre, France, Oil on Board
Colin Campbell Cooper
(American, 1856-1937)
Street view in the gothic town of Vitre in Brittany, France.
oil on board
board 10 ¼ by 14 ¼ inches
The painting was likely gifted to the architect Carleton Winslow who had a studio space along with the artist in the

Lugo Adobe/Meridian Studios in Santa Barbara.

The painting is in very good condition. The signature in the lower right is faded. It is framed in a fumed oak wood frame which is in good condition with some scratches and dings to the finish and slight separation in the corner joints.
Colin Campbell Cooper (American 1856-1937) An American Impressionist painter from Philadelphia, PA. He became well-known for his architectural paintings of New York city, where he lived, in addition to European towns and Asian landmarks where he travelled extensively.
He attended the Pennsylvania Academy of Arts. Soon after, he traveled to Europe and continued his studies in Paris at the Académie Julian,

Académie Delécluse and the

Académie Vitti. He returned to Philadelphia to teach art at Drexel Institute of art from 1895-1898. In 1898, he returned to Europe where he developed his impressionist style that would characterize the rest of his life's work.
Cooper enjoyed success and critical acclaim during his lifetime. The New York Times referred to him as

"the skyscraper artist par excellence of America". He

exhibited his work extensively throughout his life in solo shows as well as group exhibitions. In 1915 he won gold and silver awards for his oil and watercolor paintings in the Panama-Pacific International

Exposition. His work was also included in many public and private collections in the US and abroad.