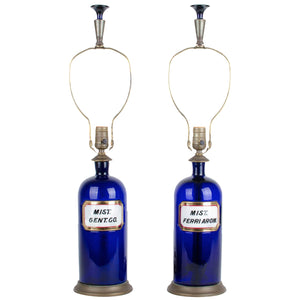 Bristol Cobalt Apothecary Bottle Lamps - A Pair
Victorian Bristol glass apothecary bottles converted to lamps. Rare large size LUG bottles. Actual bottles measure 11 1/2 inches tall. Visible height of stopper is 1 1/4 inches. Original stoppers artfully crafted into finials. Total height of lamps is 26 3/4. The base is 6 inches wide.

These bottles were made in England in the late 1800s. The LUG (label under glass) labels are gold leaf with a crimson border. Labels read Mist. Gent. Co. and Mist. Ferri Arom.