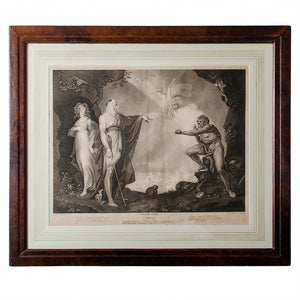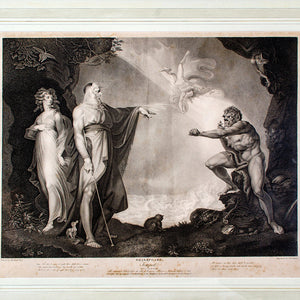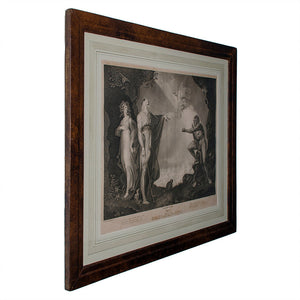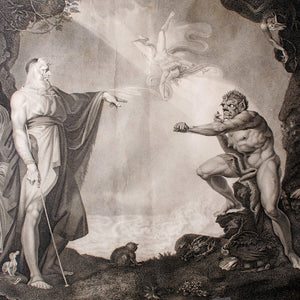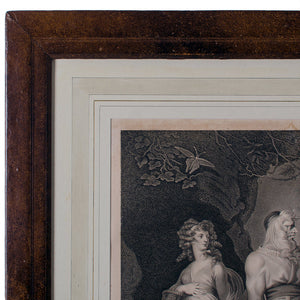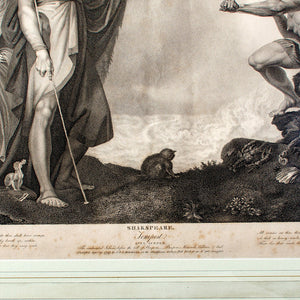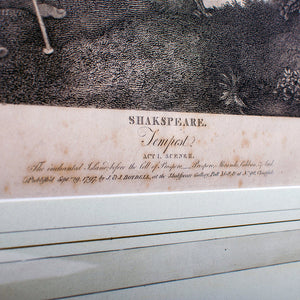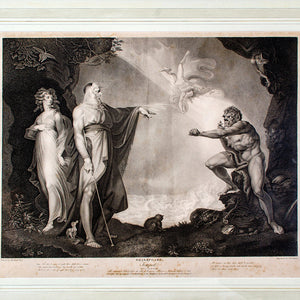 Boydell's Shakespeare Gallery, "The Tempest" Engraving 1797
Offered is a stipple engraving from John Boydell's Shakespeare Gallery printed by Peter Simon, after Henry Fuseli circa 1789-1805.

Boydell opened his Shakespear Gallery in London's Pall Mall where from 1789-1804 he commissioned artists to create paintings illustrating scenes from Shakespeares plays, which were then engraved and printed by a team of in-house printmakers to create a high quality collectible editions.

This print illustrates a scene from Shakespeare's The Tempest, Act I, Scene ii, featuring The Enchanted Island before the cell of Prospero with Prospero, Miranda, Caliban and Ariel.

Sight 19 by 24 inches
Frame 33 ½ by 28 ¾ inches

The print is in good antique condition. There is a water stain in upper center-left print margin. There is some foxing spots in the margins. There are also some areas of printers creases and/or handling creases. 

The piece is tastefully framed in a dark brown leather textured frame with a mat with hand-drawn french lines. There are minor age related scuffs and flaws.