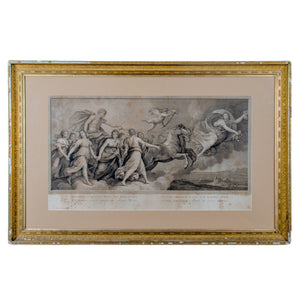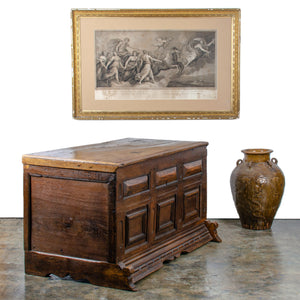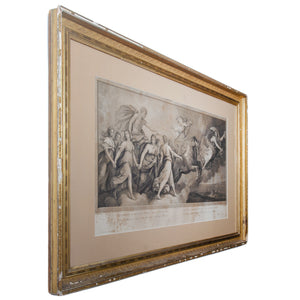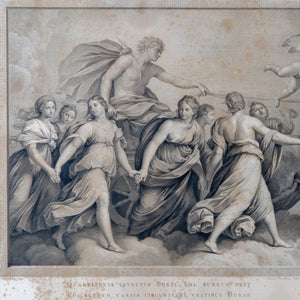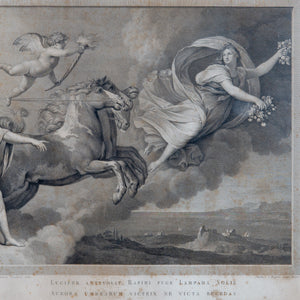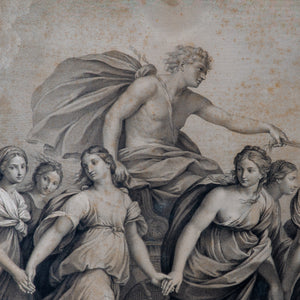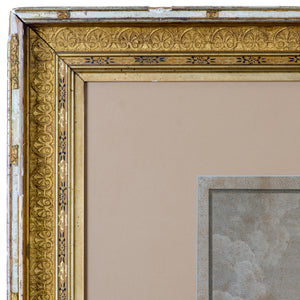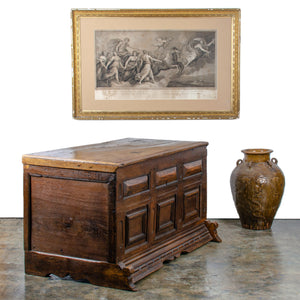 AURORA Engraving after Guido Reni Fresco by R.S. Morghen, c.1787
Raffaello Sanzio Morghen
(Italian, 1758-1833)
Apollo in his Chariot preceded by Aurora, engraving after Guido Reni, c.1787.  A rare original engraving with most examples being housed in museum collections.
Apollo on his chariot bringing light to Aurora, surrounded by maidens or the Hours.  Phosphorus in putto form personifying the morning star holds a torch lighting the way towards Aurora.  
After the fresco at the Rospigliosi Palace in Rome by Guido Reni (Bologna, 1575 – 1642).
Latin inscription: QUADRIJUGIS INVECTUS EQUIS SOL AUREUS EXIT/ CUI SEPTEM VARIIS CIRCUMSTAT VESTIBUS HORAE/LUCIFER ANTEVOLAT RAPIDI FUGE LAMPADA SOLIS/ AURAORA UMBRARUM VICTRIX NE VICTA RECEDAS / 
Sight: 35 ¼ by 20 inches
Frame: 48 ½ by 31 ½ inches
Print shows foxing.  Gilt frame distressed with losses.