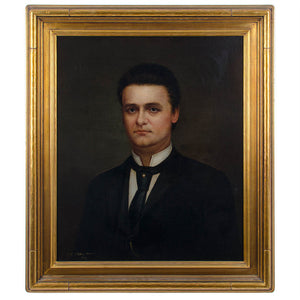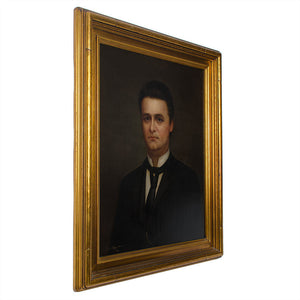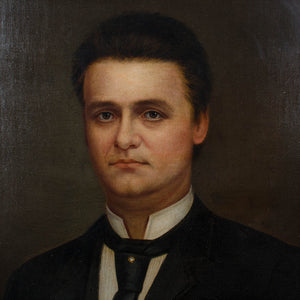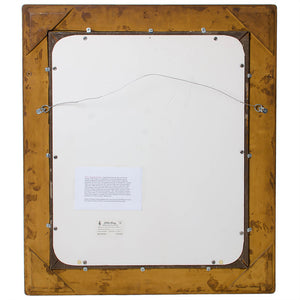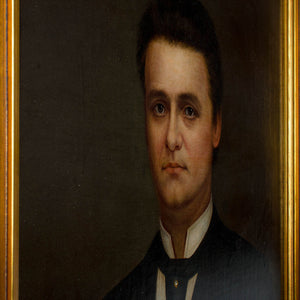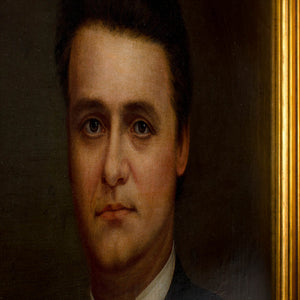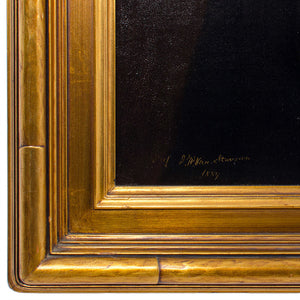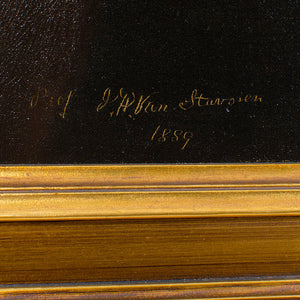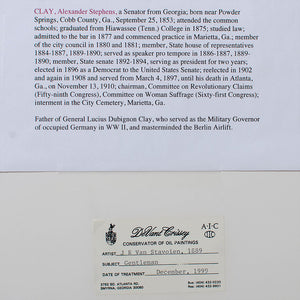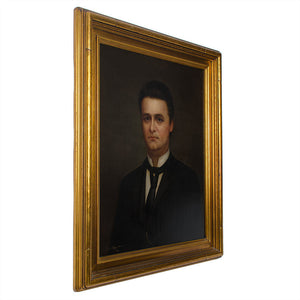 Alexander Stephens Clay US Senator from Georgia Portrait - Joseph H Van Stavoren
Joseph H Van Stavoren
(Atlanta, 1818-1893)
Alexander Stephens Clay, 1889
oil on canvas
sight 24 by 29 inches
frame 32 by 37 inches
expertly restored by DeVant Crissey, Conservator of Oil Paintings
signed and dated lower left: J.H. Van Stavoren, 1889
Canvas and gilt frame are in fine, museum ready condition.
From bio on verso:
Alexander Stephens Clay, a Senator from Georgia; born near Powder Springs, Cobb County, Ga., September 25, 1853; attended the common schools; graduated from Hiawassee (Tenn.) College in 1875; studied law; admitted to the bar in 1877 and commenced practice in Marietta, Ga.; member of the city council in 1880 and 1881; member, State house of representatives 1884-1887, 1889-1890; served as speaker pro tempore in 1886-1887, 1889-1890; member, State senate 1892-1894, serving as president for two years; elected in 1896 as a Democrat to the United States Senate; reelected in 1902 and again in 1908 and served from March 4, 1897, until his death in Atlanta, Ga., on November 13, 1910; chairman, Committee on Revolutionary Claims (Fifty-ninth Congress), Committee on Woman Suffrage (Sixty-first Congress); interment in the City Cemetery, Marietta, Ga.
Father of General Lucius Dubignon Clay, who served as the Military Governor of occupied Germany in WWII, and masterminded the Berlin Airlift. 
On the artist from 'Catchers of Light':
Joseph H. Van Stavoren (1818 – 1893) was from a family of Dutch emigrants who settled in America at the end of the eighteenth century. He was born in Dover, Kent County, Delaware on the 21st of December 1818. Although originally trained as a portrait painter he changed his profession to portrait photography. He set up a photographic studio in Nashville, Tennesee sometime after 1860, and during the American Civil War he became well known for his portraits of Union Army soldiers. It was at Van Stavoren's 'Metropolitan Photograph Gallery' that the not quite nine year old E.E. Barnard came to work as an assistant and general errand boy, towards the end of 1866. Following the failure of his business in about 1871 Van Stavoren moved to Atlanta, Georgia, where he gave up photography and went back to earning his living as a portrait painter. According to an obituary published in an Atlanta newspaper "he has painted nearly every prominent Georgian". He remained in Atlanta for over twenty one years and died there on the 2nd of May 1893.