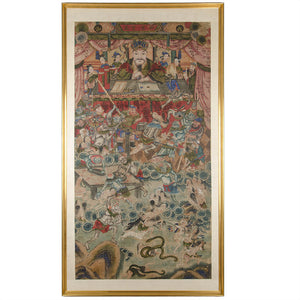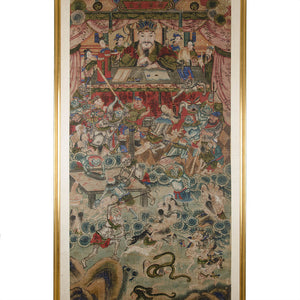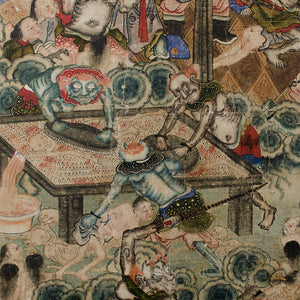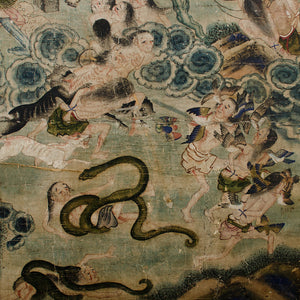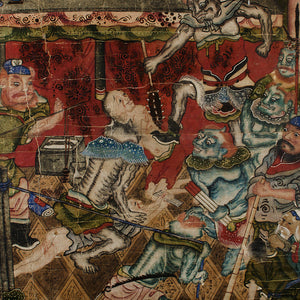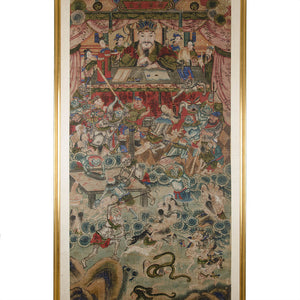 19th c. Chinese Hell Scroll - Ninth Hell
This Chinese hell scroll painted on paper in the late 19th century likely depicts the Ninth Hell reigned over by the King of Darkness Dushi.
Based on popular Tang period tales of the infernal realms, hell scrolls serve as a reminder that one will be rewarded for every good act, but justly punished for every bad. The hell scrolls spectacularly illustrate what happens when the bad deeds outweigh the good.
Hell is depicted as a bureaucratic court system overseen by magistrates. The highly imaginative and graphic torture scenes might be reminenscent in the West of a Bruegel or Bosch.

This large piece measures 38½ inches wide by 69½ inches tall.
Painted area measures 32½ by 61½ inches.
Silk lined and mounted on board. Framed in gilt wood frame.
Good condition with age related wear including creases, cracks and minor paint loss.