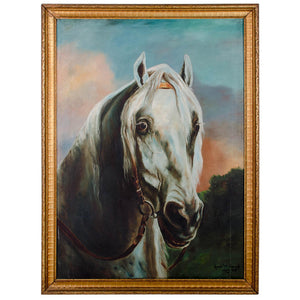 1929 White Horse Painting by Annie M. Smoak
Offered is a striking antique oil on canvas depicting a near life-sized head of a white horse.  
Annie M. Smoak was an artist and china painter from South Carolina.

canvas size 26 by 36 inches
frame size 30 by 40 inches
signed Annie M. Smoak, Copy 1929

The painting is in good condition with some areas of discoloration and very minor age-related cracking.  The frame is loose at some corners but sturdy.